The Networks Pages proudly presents the winner of the first Network Pages contest for the best logo, wordart image or artistic network photo: Stella Kapodistria.
Stella received her prize, a book voucher, on December 18, 2015.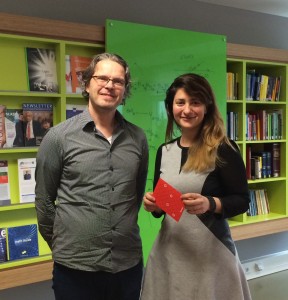 Stella receives her book voucher from Remco van der Hofstad
This is Stella's winning artistic networks photo: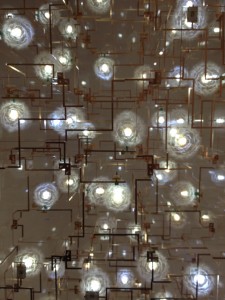 The winning photo by Stella
Here Stella describes how she came to shooting this photo:
"On Saturday November 21 2015, Stella Kapodistria (Networks, TU/e), Paulo Serra (Networks, UvA) and Peter van de Ven (CWI) attended the opening of the exhibition Berlage, Godfather of Dutch Design, at the Beurs van Berlage in Amsterdam. The exhibition showcases authentic pieces of furniture from Berlage from the turn of the century, as well as a number of contemporary Dutch Design examples.  Amongst all the works of more than 20 contemporary Dutch designers that can be seen in the exhibition, Stella, Paulo and Peter discerned the  artwork of Lonneke Gordijn and Ralph Nauta for its elegance, grace, power, technological artfulness and network relevance. Stella captured with her mobile phone a snapshot of the artistic energy and light network  (Fragile Future 3) and immediately submitted  it to the Network Pages contest.''
Stella's photo is of the art work "Fragile Future'' by Studio Drift. Studio Drift was founded in 2006 by Ralph Nauta and Lonneke Gordijn, both graduates of the renowned Design Academy Eindhoven (NL). Their philosophy is based on creating a dialogue between opposites: nature and technology, knowledge and intuition, science fiction and nature. Studio Drift creates projects that balance on the fine line between arts and design. In Fragile Future, we can see a delicate balance between nature as represented by the dandelion seeds combined with the networks-like architecture around it. Below is a high-resolution photo of the art work kindly provided to us by Studio Drift. We thank Studio Drift for allowing us to use this photo.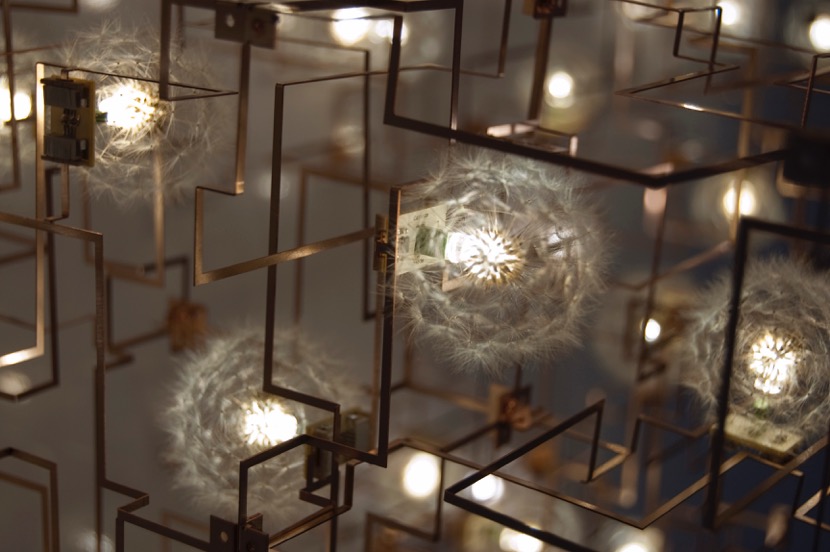 Related articles